Netaji - The Forgotten Hero, Shyam Benegal's film on Subhash Chandra Bose, is finally ready after three years in the making. The film releases on May 6, 2005.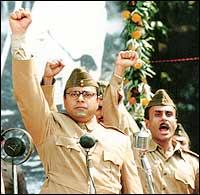 (PHOTO COURTESY: REDIFF.COM)
Benegal, who says he feels that Bose "has been forgotten by modern India because he was unfairly sidelined by the establishment as they did not agree with his views", aims the film at the present generation, a fact that can be gauged from his comment - "that (people forgetting about Bose) is a pity because the youth of today could have learnt a great deal from him about commitment, standing up for values and idealism".
Benegal has assembled one of the most talented cast for the film, with the underrated but brilliant Sachin Khedekar in the lead role, and it has been shot in locations within India and also in Uzbekistan, Germany and Myanmar. It is probably also the first Indian movie to have shot inside a World War II vintage German submarine. (FROM DECCAN HERALD)
More information and details in the following links:
The music from the film, by A R Rehman